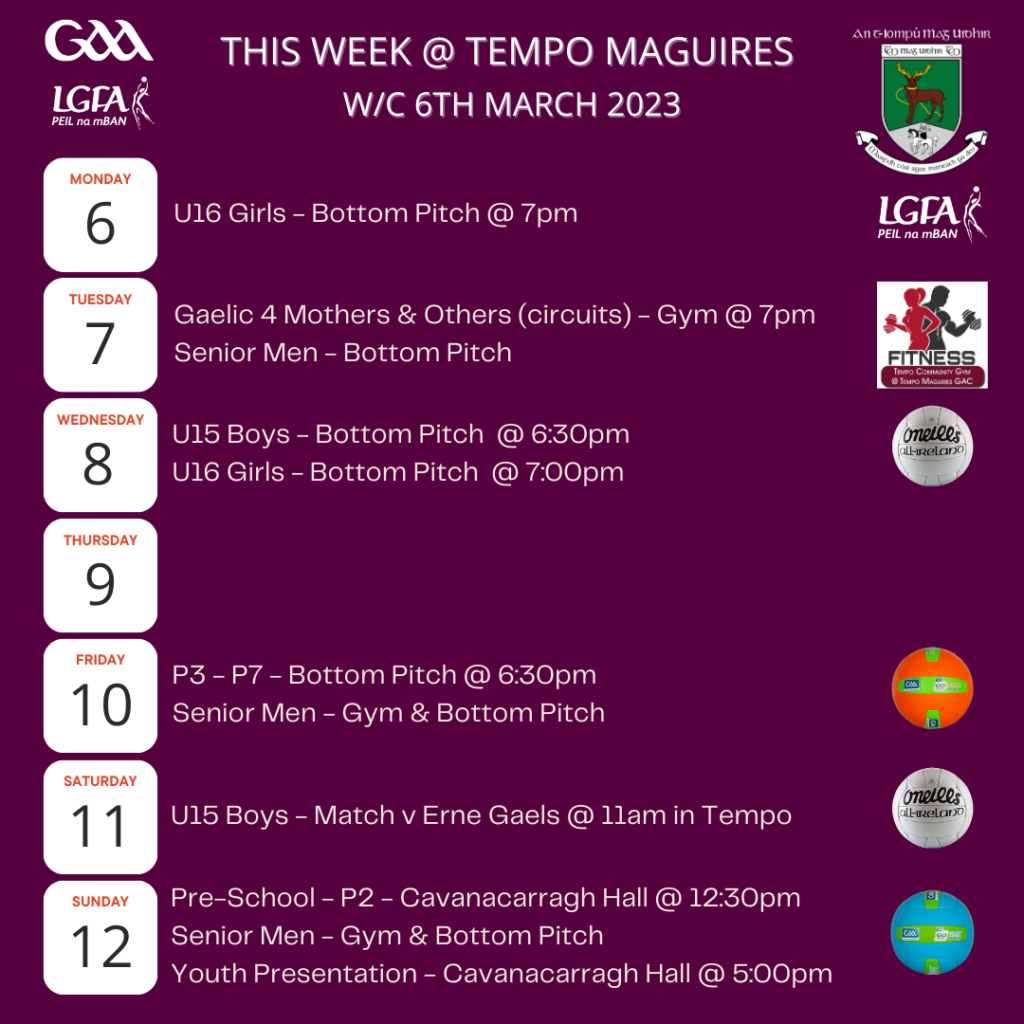 Well done to the girls from St Mary's Tempo who won the 2023 Fermanagh Cumann na mBunscol Gaelic Football Indoor Final last week. They will now represent Fermanagh in the Ulster competition in two weeks time in Magherafelt.
Our Annual Youth Presentation will take place this Sunday at 5pm in Cavanacarragh Hall. Everyone is encouraged to attend. The U16 girls, U17 boys and U18 girls will be getting their 2022 medals on the night. The winners of the Primary School Colouring Competition will also be announced. There are a couple of special guests coming and light refreshments will be served. There will also be an opportunity for people to pay their 2023 membership and Win a House in Fermanagh tickets will also be available to purchase.
Saturday's Lotto Jackpot was £10,200. There was no lucky winner matching 6, 7, 13 and 18. The winner of the £100 Win a House in Fermanagh ticket was Chloe O'Brien. This week's jackpot is £10,300. Remember that you can play online at TempoMaguires.gaa.ie/lotto with the auto renew option or in the usual places with an envelope.
Tickets for Fermanagh GAA's 'Win a House in Fermanagh' Competition are selling very well in Tempo – thanks to everyone who has purchased one so far. We are out on the roads selling these so get in touch if you want to purchase one, or if you can help us by selling one or more. Tickets are £100 each and can be purchased from www.winahouseinfermanagh.com but be sure to select Tempo Maguires as your club, as we get £25 on each mentioned sale. As well as the main prize of a new house in Enniskillen, there are a number of Early Bird Prizes on offer, including a trip to New York City, which will be given away next weekend.
2023 GAA & LGFA Membership is now due. This would be a great time for people to join our Cairde Tempo scheme, which funds our ongoing development works. Donations are £20/month or £240/year and it includes your club membership (for you and your family), gym membership and entry into a monthly £100 draw. New and existing Cairde Tempo members need to register as members online but no upfront payment is required. Get in touch if you can make a contribution in this way to the growth of our club. Annual membership payment can be made at tempomaguires.gaa.ie/membership. Family membership is £50/year, adult membership is £25/year and youth membership is £10/year. All players must be registered before the provisions of the Player Injury Fund apply so no training or games before registration.
If any Cairde Tempo member wants access to the gym, please get in touch to get your fingerprint registered.
Our Pre-School, P1 & P2 sessions will take place on Sunday from 12:30pm ~ 1:15pm in Cavanacarragh Hall. Everyone is welcome. Pitch sessions for P3 – P7 boys and girls on Fridays from 6:30 – 7:30 on the bottom pitch. New members welcome.
Circuit training for the Gaelic for Mothers & Others continues in the Gym on Tuesdays. New members are always welcome.
Tempo Maguires are seeking members to represent the club in Scór and Scór na nÓg in the following categories: Céilí Dancing, Solo Singing, Recitation, Balled Group, Novelty Act, Instrumental Music, Set Dancing and Table Quiz. This is a fantastic opportunity for people to celebrate Irish culture and language within their own community. Get in touch if you fit the bill for any of these categories.
There are a number of dates and venues available for Safeguarding training throughout Fermanagh, it is important that all coaches at youth level have attended one of these courses. Please contact Eilís Dunne for more details.
We will be rolling out a number of development sessions for club coaches over the coming weeks. If anyone wants to take part, please let us know.
Thanks to everyone who attend the quiz on Saturday night in Cavanacarragh Hall. Well done to our winning team – Shaun McMahon, Pauline Meehan, Damien Meehan, Eamon Maguire and Fiona Maguire.  Some fabulous raffle prizes were donated by Campbell Contracts, Made In Tempo, Sarah McCusker, Tropic Skincare, CD Consulting, Fee Engineering and Leda Fry. 
There will be training for club stewards in Brewster Park this Saturday at 10am. Stewards will be trained and accredited by the Ulster GAA Health & Safety Committee, and the course is monitored by SportNI. If you are interested in taking part, please get in touch.
If anyone is interested in helping out with grounds maintenance or a general clean up, please get in touch with the Club Secretary, Niall McElroy, and we can allocate an area for you to look after at a time that suits you.